The woman leading the Kyiv tax authority has been accused of a multimillion-dollar fraud after a raid on one of her four homes as Volodymyr Zelenskiy's campaign against state corruption in Ukraine continues.
The development came as Ukraine's president prepares for a Friday summit in the country's capital with senior EU officials to discuss potential accession to the bloc of 27 member states.
Ukraine's state bureau of investigation (SBI) said in a statement that the acting head of the inspectorate, who has not been named, had abused her "power and official position" along with other members of the authority.
Investigators claimed the woman's lifestyle did not fit her declared income as head of the capital's main tax office. She is said to own three flats in the city with a total value of $1m (£811,640), a house near Kyiv worth about $200,000 and two cars together worth about $150,000.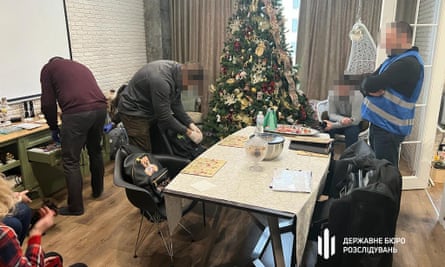 Her driver was also found to have a $100,000 car registered in his name, although the man's "income in recent years was no more than $8,000", the SBI claimed.
During a raid on the woman's home, investigators also found $158,000, 530,000 Ukrainian hrynvia (£11,647), and €2,200 (£1,944) in cash and an array of expensive jewellery, designer-branded clothing and luxury gold watches. The SBI published photographs of what it described as the haul.
The Guardian was unable to contact the official for comment.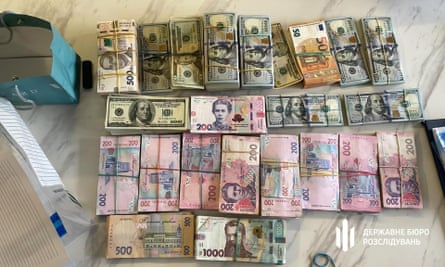 Investigators allege that the woman had used her position to reduce the tax bills of some individuals and companies.
The SBI said in a statement: "The total amount of established unsubstantiated assets of the official is about $1.4m."
A number of officials were forced to resign last week amid allegations of corruption as Zelenskiy pledged that practices that were widespread before the war in Ukraine would not be allowed to continue.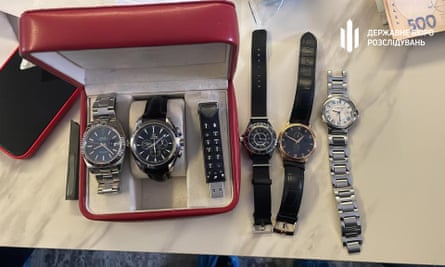 Vasyl Lozinskyi, an infrastructure minister, was dismissed from his post having been accused of inflating the price of winter equipment, including generators, and allegedly siphoning off $400,000. He is under house arrest. About $38,000 in cash was reportedly found in his office. He has not commented.
The deputy defence minister, Vyacheslav Shapovalov, also "asked to be fired" after reports that soldiers' rations were being bought for inflated prices, raising concerns of potential kickbacks. He has denied any wrongdoing.
The crackdown continued on Wednesday with a raid on the house of Igor Kolomoisky, a former political ally of Ukraine's president, as part of an investigation into the suspected evasion of customs duties and embezzlement linked to the Ukrainian oil producer Ukrnafta and refiner Ukrtatnafta.
According to Transparency International's 2021 index, Ukraine is the second most corrupt country in Europe behind Russia. With Ukraine taking its first steps on what could be a long path to EU accession, the government is under pressure to show that it has cleaned up its act.
Zelenskiy is expected to take part in a summit in Kyiv with the European Commission president, Ursula von der Leyen, and her European Council counterpart, Charles Michel, on Friday to discuss progress.
US auditors who met senior Ukrainian ministers this week said they had found no evidence of the misuse of US financial aid to the government.