Another teenager has been arrested in connection with the murder of 15-year-old student Khayri McLean in Huddersfield.
He is the second person to be arrested as police investigate Khayri's death after he was stabbed outside his school.
West Yorkshire Police did not specify what the detained 15-year-old had been arrested on suspicion of.
Officers had previously arrested a 16-year-old boy on suspicion of murder on Thursday.
The force said in a statement: "Police investigating the murder of 15-year-old Khayri McLean in Huddersfield have arrested a second youth in connection with the incident.
"The 15-year-old male was arrested yesterday and is currently in custody.
"A 16-year-old male who was arrested yesterday also remains in custody.
"Officers from West Yorkshire Police's homicide and major enquiry team (HMET) are continuing to conduct enquiries into the death of Khayri, who died after being stabbed on Woodhouse Hill, Huddersfield, on Wednesday."
Emergency services were called to the scene at 2.54pm on Wednesday, following the attack close to the entrance of North Huddersfield Trust School.
Khayri received treatment at the scene and was taken to Leeds General Infirmary for emergency surgery, but was pronounced dead a short time later.
The police force has appealed for any video footage of the incident.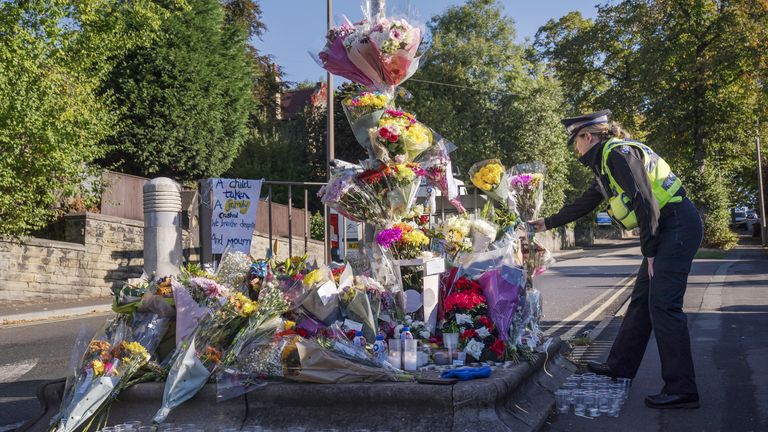 On Friday, Khayri's girlfriend, Shyana James, 16, and her mother Sherrin James, 35, returned to the scene to see the growing pile of tributes, including flowers and cards.
Ms James said Khayri had messaged Shyana shortly before the incident, saying he "had had a good day at school and couldn't wait to see her".
She added that her friend had phoned her within minutes saying he had been hurt.
Ms James said her daughter was "heartbroken", adding: "I can't even describe it. She's just in bits."
Anyone who has mobile phone or other video footage of the incident can send it to police via a dedicated online portal at https://mipp.police.uk/operation/13XM020122K36-PO1