Key events
48 min: Fred is down after copping an accidental arm in the face from Scarpa. Once again, the Forest midfielder appeared wholly innocent, and is quickly forgiven by his victim, who is soon up and about again.
47 min: Martinez hooks a clearance upfield. It blooters Surridge in the face. The rebound benefits United. Had the ball pinged in a different direction, it would have allowed the Forest striker a run on goal.
Forest get the match restarted. No changes. United are kicking towards the Stretford End in this second half, just as they like it.
Half-time advertisement. Sign up now! Sign up now! Sign up now? Sign up now!
HALF TIME: Manchester United 0-0 Nottingham Forest (agg 3-0)
Johnson and Dennis have had good chances for Forest, though it's Weghorst who has come closest, hitting the post just before the half-time whistle. Both managers will be pleased with the way their side have played, for differing reasons, but it's Manchester United who are cruising towards a Wembley date with Newcastle!
45 min +1: In the one advertised extra minute, Surridge is booked for a late and clumsy lunge on Varane.
45 min: United nearly respond in perfect fashion! Casemiro swings a cross in from the right. Weghorst rises unmarked on the penalty spot, and guides a nearly perfect header across Hennessey and … off the base of the left-hand post. Forest clear.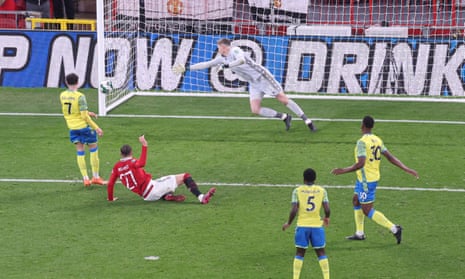 43 min: Forest have a chance to break. Scarpa makes a run from deep but Dennis doesn't stop him. No worries, as Forest come again. Johnson skips down the right and reaches the byline. His cutback is deflected up into the path of Dennis, ten yards out. Dennis swivels and sends a shot towards the bottom right. It's heading in … but hits his own man Surridge! What awful luck for Forest … although Martinez was heading back towards the goalline and might have cleared it anyway. Still, Forest have had a couple of big chances now to open the scoring. In a parallel universe somewhere, they're 2-0 up and right back in this!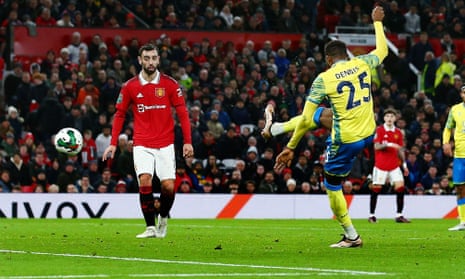 41 min: Fernandes draws an actual foul this time, from Lodi down the right. This is a free kick in a dangerous position, just to the right of the Forest box. "Forest are holding firm?" repeats DP. "Isn't that a bit like leaving a porch light on for Lord Lucan at this point?"
40 min: Fernandes makes like Dennis in the Forest box. No post-sauce finger-wagging this time.
38 min: A sexy cameo from Antony. First up he outrageously hooks a ball seemingly destined for a goal kick back into play, forcing Boly into a panicked clearance that results in a corner. And from that, he sends a rising screamer millimetres over the bar from 25 yards. Had that been a few inches lower (apologies for the shift from metric to imperial) that was nestling in the top right-hand corner. It was a proper heat-seeker.
36 min: Dennis goes over in the United box. Martinez, the nearest man, didn't touch him. When Dennis gets back up, Martinez waves an irritated finger in his face. Dennis is fortunate it's just a finger, for he was really trying it on.
35 min: Fred is booked for a late lunge on Scarpa.
34 min: After all that's happened, it's Heaton whose hands are warmed first. Johnson bursts in from the right, past Casemiro and Martinez and into the box. He opts for power, when he really should try to slot low. The keeper saves well, but shouldn't have been given the chance.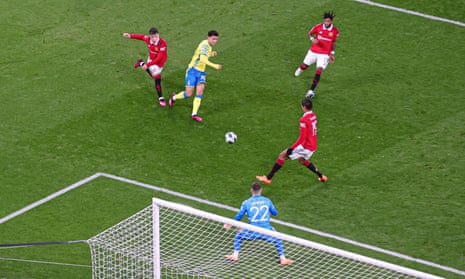 33 min: Garnacho takes advantage of a slip by Williams to make it to the byline on the left. He fizzes low and hard towards Weghorst at the near post. Hennessey does very well to get down and bravely smother.
31 min: United are the better team, but Forest are holding firm. How they must wish they'd delivered an opening half hour like this last week.
29 min: Garnacho, ever busy, dribbles again down the left and draws a clumsy clip from Scarpa. Shaw curls the resulting free kick towards the far stick. Casemiro rises at the far stick and heads across the face of goal. With Weghorst lurking, Hennessey kicks clear.
28 min: Shaw throws into the Forest box from the left. The ball rears up off the turf and onto Williams' arm. United claim a penalty but the Forest defender had his arm in a natural position and was unsighted, so the referee isn't interested.
27 min: United are beginning to push Forest back now. The visitors can't get out. Shaw steams down the left and lays off to Garnacho, who has Weghorst and Fernandes in the middle but can't deliver a cross.
25 min: Boly clears Shaw's corner. Meanwhile Ruth Purdue isn't four-square behind Erik ten Hag's selection tonight. "Appearance number for Bruno is 31 now this season for United. We've been here before with him and being knackered at the end of the season."
24 min: Garnacho wins the first corner of the evening down the left. Dennis should clear it but passes a strange connection out for another corner, this time on the right.
22 min: Dennis and Fernandes tussle for the ball. The former goes over, but it's going to be United's free kick as the whistle doesn't go as he expects when he grabs the ball. Adding injury to insult, Antony, also in attendance, leaves a sneaky one on the back of his leg. Naughty, naughty.
20 min: Forest had briefly threatened to get themselves into this game, but United have now regained their early control of midfield.
18 min: Antony cuts in from the right and sends one of his trademark curlers towards the bottom left. Hennessey reads the intention and smothers easily.
17 min: Garnacho drops a shoulder and tries to skin Williams down the left. Williams isn't having a bar of it, and stands strong. Garnacho goes over in the box, but he's been eased off the ball legally, and his penalty request is quite correctly ignored.
15 min: A couple of fancy flicks from Fernandes, both with the outside of his boot, both down the left, the first pass releasing Shaw into space, the second nearly releasing Garnacho into the Forest box. It all ends in a goal kick for Forest, but the crowd enjoyed that.
14 min: Scarpa hoicks it in. Varane heads clear with Surridge lurking, waiting to head home. Forest asking a couple of (polite) questions here.
13 min: Shaw is sent into space down the left but shanks an uncharacteristically poor cross into the stand behind. Forest counter, Dennis drawing a foul from Antony down the left. A free kick, and everyone lines up on the edge of the United box.
12 min: Forest go up the other end and put together their first passing sequence of the evening. Dennis and Mangala both think about shooting from the edge of the box but there's not quite enough room to do so. The ball's shuttled wide right for Williams, whose low cross is hacked clear by Martinez. "We're gonna win 4-0," quip the away fans via the medium of song.
11 min: Garnacho probes down the right but Williams and Freuler double up on him and there's no route through.
9 min: United have enjoyed nearly 90 percent possession so far … and yet Forest will be fairly happy with the way they've started the game. The hosts have so far been unable to put together anything that looks vaguely dangerous in the final third.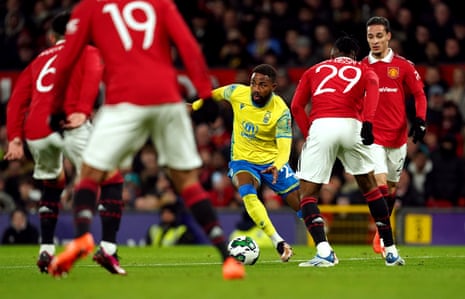 7 min: Antony and Wan-Bissaka combine down the inside-right channel, flicking the ball on for Fernandes, who momentarily looks like breaking clear into the Forest box. But he hesitates, allowing Scarpa and Mangala to block his attempted cross then close him down. "I noticed in the first leg some real beef between Gustavo Scarpa and Anthony," writes Simon Frank. "Perhaps a Palmeiras / São Paulo thing? Some spice and crackle to watch for in what could be a dead rubber." The usual don't-want-to-see-it, think-of-the-kids caveats apply.
6 min: A chance for Freuler to send Dennis scampering into space down the Forest left. But his pass is overhit and the ball skids off the wet turf. Throw.
4 min: Forest finally get a go of the ball. Scarpa shields it, and accidentally swings an arm into Casemiro's face. A sore one, but Casemiro isn't at all annoyed, and the players exchange pleasantries soon after.
3 min: In other breaking news, it's raining in Manchester. Forest still haven't got their foot on the ball.
2 min: Forest are kicking towards the Stretford End in this first half. Technically speaking. They haven't taken possession of the ball yet.
Manchester United, 3-0 up after the first leg, get the second leg underway. They're 90 minutes away from a Wembley final against Newcastle United.
The teams are out! Manchester United in red, white and black; Nottingham Forest in second-choice yellow and blue. Forest have been forced into a late change, with Jesse Lingard picking up an injury in the warm-up. Sad for Lingard, on his return to his old stomping ground, but an opportunity for Emmanuel Dennis, who takes his place in the starting XI. As local breathy emoter Ian Brown warbles through the PA: This is the One. We'll be off in a minute or two!
Tense, nervous headache ahead of a major semi-final? Let new-age guru Peter Oh soothe your troubled mind! "When things are ugly in the world, it's helpful to meditate on something beautiful," he begins, to a soundtrack of tinkling water and pan pipes. "The Nottingham Forest crest, for instance. A tree and a river, watched over by two tastefully placed stars. Life-giving, simple, beautiful. On the other side, a stylised trident-wielding devil. It's basically good versus evil tonight. Come you Tricky Trees! Grab a tricky three and send this thing into extra time!" In the interests of balance, and on instruction from our lawyers, the Guardian would like to clarify that Manchester United are not, nor do they symbolically represent, evil. But Peter's right about one thing: that Forest crest is an all-time classic. Yes logo!
Erik ten Hag talks to Sky. "The position is good but there's still a game to go … it's 0-0 again … and we have to use the game to get further on in the process … we have a strong selection and a good team … we are bringing some player back but not too much … it is good for the team to have Jadon Sancho and Anthony Martial back … we will need them for all the games coming up … but first we focus on this game and we have to get to the final … Casemiro and Fred can deal with many games, they are used to it, and we are happy with this … we have to avoid complacency … we have high demands and high standards."
Steve Cooper talks to Sky Sports. "The task is obviously massive … a mountain to climb … what we have to focus on is trying to put in a better performance, a positive performance … not just than last week but when we played United here before … you get a positive performance and then you have a chance of a positive result, and then you never know, but we're not thinking about that … we're only focused on tonight … it's always been our mantra … it is quite easy to think beyond that but we're not going to … we're not looking further forward because you can't, it's such a tough game, United at Old Trafford."
It's fair to say Nottingham Forest have it all to do this evening. Having lost the first leg at the City Ground 3-0, chances are Manchester United will make it through to the final tonight. However, the result Forest are searching for is not unprecedented. In December 1977, Brian Clough took his newly promoted team to Old Trafford as shock mid-season leaders of the First Division. Dave Sexton's hosts were hopeful of inserting themselves into the title race. What happened that afternoon sent shockwaves up and down the division, and Forest on an inexorable run to the title (with the small matter of a couple of European Cups to follow). "Never can Manchester United have been so humiliated in front of their own crowd," wrote Ronald Atkin in the Observer of Forest's jaw-dropping 4-0 win. "Forest, building neatly from midfield in front of an obdurate back line which gave Peter Shilton an industry-free match, took measure of United's defence then contemptuously tore it to pieces." A performance for the ages. And what a team! How they could do with John Robertson, Tony Woodcock and Archie Gemmill tonight.
Manchester United make five changes to the starting XI selected for the first leg at the City Ground. Tom Heaton replaces David de Gea in goal, while Fred, Raphael Varane, Luke Shaw and Alejandro Garnacho also step up. De Gea drops to the bench along with Victor Lindelof, Tyrell Malacia and Marcus Rashford; Christian Eriksen is out injured until May. Jadon Sancho is also named as a sub, hoping to be eased back into action after a long lay-off.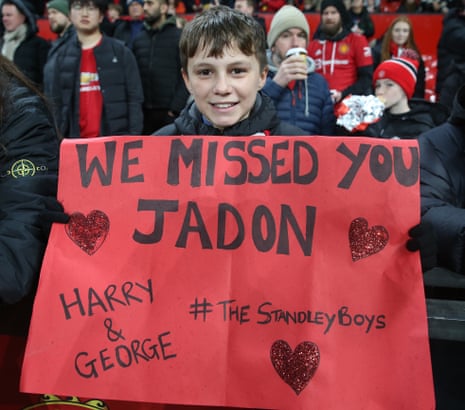 Nottingham Forest make four changes to last week's starting selection. Orel Mangala, Neco Williams, Willy Boly and former United star Jesse Lingard replace Joe Worrall, Serge Aurier and Danilo, who drop to the bench, and the injured Morgan Gibbs-White.
Manchester United: Heaton, Wan-Bissaka, Martinez, Varane, Shaw, Fred, Casemiro, Fernandes, Antony, Garnacho, Weghorst.
Subs: De Gea, Lindelof, Maguire, Malacia, Mainoo, Pellistri, Martial, Rashford, Sancho.
Nottingham Forest: Hennessey, Williams, McKenna, Boly, Lodi, Freuler, Scarpa, Mangala, Lingard, Johnson, Surridge.
Subs: G Shelvey, Cook, Worrall, Mighten, Aurier, Dennis, Danilo, Hammond, Osong.
Last week this happened …
… rendering this second leg little more than a procession. The following 90-minute exercise in I-dotting and T-crossing will confirm Manchester United's place in the 2023 League Cup final against Newcastle United; if we're wrong, we'll have witnessed a match they'll be talking about in Nottingham for a very long time. Kick off is at 8pm GMT. It's on!