Key events
The EU summit is the first such gathering in the Ukrainian capital since the war started on 24 February 2022, caps a fortnight during which the West pledged significant new weapons deliveries to Ukraine to help it battle against an expected new Russian offensive. Moscow has denounced these western pledges as provocations.
The allies will discuss sending even more weapons and money to Ukraine, boosting access for Ukraine's products to the EU market, helping Ukraine cover energy needs, slapping new sanctions against Russia, prosecuting the leadership in Moscow for the war and extending the EU no-roaming mobile calls zone to Ukraine.
EU officials to arrive in Kyiv
More than a dozen top EU officials will arrive in Kyiv on Thursday, Reuters reports, with promises of more military, financial and political aid. It's a symbolic trip meant to highlight support for Ukraine as the first anniversary of Russia's invasion nears.
But the EU is set to dash Ukraine's hopes of being swiftly allowed membership, stressing the need for more anti-corruption measures, and unwilling to admit a country at war, the biggest armed conflict in Europe since the second world war.
Despite much admiration for Ukraine's resistance and praise for moves to crack down on corruption, the EU refuses to offer Kyiv a fast track to membership.
Prime minister Denys Shmyhal has said he wanted Ukraine to join the European Union in two years and a liberal Belgian EU lawmaker said teasingly he dreamt of it happening over the next five. In reality, that is most likely to take much longer.
"Some may want to speculate about the end game but the simple truth is that we are not there yet," said another EU official.
On Thursday, top members of the EU's executive European Commission will meet their counterparts in the Ukrainian government. On Friday the head of the Commission, Ursula von der Leyen, and the chairman of the 27 EU national leaders, Charles Michel, will meet President Volodymyr Zelenskiy.
Kyiv warns of Russian mobilisation on eastern border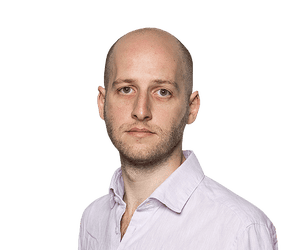 Jonathan Yerushalmy
Russia is planning a major offensive to coincide with the one-year anniversary of the war in Ukraine on 24 February, according to the country's defence minister, Oleksii Reznikov.
Speaking to French media, Reznikov warned that Russia would call on a large contingent of mobilised troops. Referring to Russia's general mobilisation of 300,000 conscripted soldiers in September last year, he claimed that numbers at the border suggest the true size could be closer to 500,000.
"We do not underestimate our enemy," Reznikov said. "Officially, they announced 300,000, but when we see the troops at the borders, according to our assessments it is much more."
The Guardian was unable to independently verify these figures.
On Wednesday evening, President Volodymyr Zelenskiy said Russian forces were trying to make gains that they could show on the February anniversary of their invasion, and issued a dire account of the situation in the eastern province of Donetsk.
"A definite increase has been noted in the offensive operations of the occupiers on the front in the east of our country. The situation has become tougher," Zelenskiy said in a video address.
Reznikov said the offensive would probably be concentrated in two areas: the country's east, which has seen heavy fighting over recent weeks; and the south.
"We think that, given that [Russia] lives in symbolism, they will try to try something around February 24."
Kramatorsk apartment block attack kills three
A Russian missile destroyed an apartment building and damaged seven more in the eastern Ukrainian city of Kramatorsk on Wednesday night, killing at least three people and injuring 20, regional police said.
Local authorities initially said Russia had fired a rocket but the police force later said an Iskander-K tactical missile had struck at 9:45 pm local time (19:45 GMT).
"At least eight apartment buildings were damaged. One of them was completely destroyed," police said in a Facebook post. "People may remain under the rubble."
At least 44 people were killed last month when a Russian missile hit an apartment building in the eastern city of Dnipro.
Hello and welcome to our live coverage of the war in Ukraine. My name is Helen Sullivan and I'll be bringing you the latest for the next while.
On Wednesday night in the eastern Ukrainian city of Kramatorsk, about 55 km (34 miles) northwest of Bakhmut, a Russian missile destroyed an apartment building, killing at least three people and injuring 20, police said.
The situation on the frontlines in eastern Ukraine "has become tougher" as Russian forces push for gains that they could show on the first anniversary of their invasion, on 24 February, Ukrainian president Volodymyr Zelenskiy said in his late night address.
Here are the other key recent developments:
Fierce fighting continued in eastern Ukraine, where Russian troops are trying to gain ground near the strategic logistics hub of Lyman, deputy defence minister Hanna Malyar said on Wednesday evening.

A former commander of Russia's Wagner mercenary group who fled to Norway told Reuters he wanted to apologise for fighting in Ukraine and was speaking out to bring the perpetrators of atrocities in the conflict to justice.

Britain's defence secretary, Ben Wallace, has said he does not think it is the right approach "for now" to send UK fighter jets to Ukraine. He said it was "not a solid decision", adding: "I've learned two things: never rule anything in and never rule anything out." Meanwhile, Downing Street has continued to rule out providing Kyiv with British jets, saying it was not practical given the complexity of the jets.

Ukraine's defence minister, Oleksii Reznikov, said he had a "frank and productive" conversation with France's president, Emmanuel Macron, regarding his country's "urgent operational needs for self-defence".

The US is readying more than $2bn worth of military aid for Ukraine that is expected to include longer-range rockets for the first time as well as other munitions and weapons, two US officials briefed on the matter told Reuters. The Kremlin said longer-range rockets reportedly included in the upcoming package of military aid would escalate the conflict but not change its course.

Norwegian academics, rights campaigners, bestselling authors and a former minister have urged Oslo to increase its support for Ukraine, saying the government must do more to help after earning billions in extra oil and gas revenue from Russia's war. Norway's oil and gas revenues have soared to record levels over the past 12 months as energy prices have tripled after Russia's invasion of Ukraine and Norway has replaced Russia as Europe's largest supplier of natural gas.

Nato's secretary general, Jens Stoltenberg, has said Russia and China's growing relationship poses a threat not only to Asia but also to Europe. In a speech to Keio University in Tokyo, the Nato chief underlined the importance of stronger cooperation and more "friends" for Nato in the Indo-Pacific region, adding that the war in Ukraine had demonstrated "how security is interconnected".

A UK Ministry of Defence intelligence update said recent days have seen "some of the most intense shelling of the conflict" along the Dnieper River. "This has included continued shelling of Kherson city," the ministry notes, adding that outside the Donbas, Kherson is the city most consistently shelled in the conflict.

The woman leading the Kyiv tax authority has been accused of a multimillion-dollar fraud after a raid on one of her four homes. Ukraine's state bureau of investigation (SBI) said in a statement that the acting head of the inspectorate, who has not been named, had abused her "power and official position" along with other members of the authority.