A DC fan artist has caught a Superman writer's attention on Twitter with a beautiful and stylish manga-inspired design for Jonathan Kent as Superman.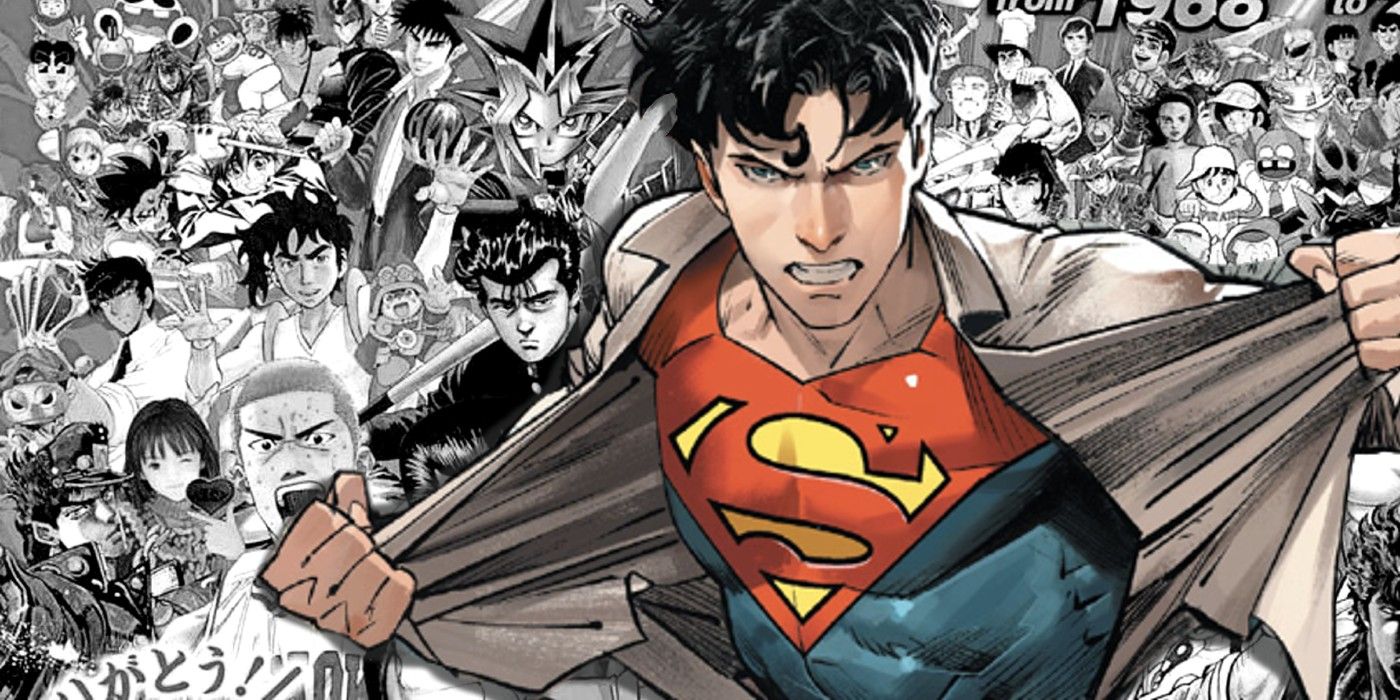 The heir to Superman has been reimagined as a handsome manga protagonist in an incredible new piece of fanart. Over the years, many manga-inspired artworks have been created in support of Western comic series. But this shonen manga artwork created to honor the new Superman, Jonathan Kent, is something to celebrate, especially according to Superman writer, Tom Taylor.
Fan artist BatmAndrew (@BatmAndrewArt) was praised on Twitter by Tom Taylor, the writer of Jon Kent's adventures as Superman, for his custom Superman artwork. BatmAndrew is a regular on Twitter, posting his manga-style redesigns of popular DC and Marvel characters. His manga-inspired artwork breathes new life into iconic characters such as Batman Beyond and Miles Morales. Tom Taylor called this latest work "Very cool," and his compliment shows that he knows that shonen manga and superheroes are a perfect combo, like chocolate and peanut butter.
This incredible reimagining of a shonen protagonist version of Jon Kent's already-iconic Superman embodies the spirit of manga series such as Dragon Ball, My Hero Academia, and One Punch Man.
Related: Is Jon Kent's Superman About to Enter a New Love Triangle?
Jonathan Kent Would Fit Perfectly In A Superhero Manga
Jon Kent's Superman has made headlines as of late with his ongoing comic series, Superman: Son of Kal-El, written by Tom Taylor. The series follows Jon Kent taking the mantle of Superman on Earth after his father Clark Kent/Kal-El went off-world. He would make history by becoming the first openly bisexual version of Superman, a very progressive story decision. The character's popularity has continued to skyrocket with a dedicated 2D artist working hard to create a manga-inspired look for Jon Kent's Superman.
This Superman design is remarkable and energetic from top to bottom. First, the Dragon Ball Z-inspired spiky black hair would make fans wonder if he can go Super Saiyan during battle. He has the adorable face of a likable, never-say-die manga hero. The blue and red sports jacket mixed with the new House of El symbol feels similar to UA High School's gym uniforms from My Hero. The taped arms and fists inspired by Naruto's best hand-to-hand fighter Rock Lee complements Jon's fighting prowess and half-human side. Finally, a clashing combination of a fancy golden belt, black pants and red boots fits with the new direction of a young Superman. This is a Superman who looks ready to hit the shelves in the manga section of bookstores worldwide.
This version of Jon Kent has the Tom Taylor seal of approval and BatmAndrew did a phenomenal job creating a stylish, shonen design to honor a new, modern generation of the Superman Family. If Superman fell through a dimensional rift into an alternate Earth with manga-inspired heroes, this is definitely what he would become. An inspiring hero with a charming face, cool design and the best superpowers appears to be what the artist was going for, and with this manga-inspired Superman fanart, he has succeeded with flying colors.
More: Superman's New Romance Subverts A Classic Clark Kent Problem
Source: BatmAndrew