As part of its latest Behind the Sims presentation, EA announced The Sims 4's new infant update will be making its squishy arrival on 14th March.

When this update goes live, it will bring with it an entirely new life stage, and a host of new activities and interactions for players and their little bundles of joy. Yes, after a brief spell of babyhood (the developers obviously don't want to corrupt any pre-existing save files), we will have the infant stage. At last, babies won't spend their pre-toddler days being immobile objects bound to a bassinet.

Soon, other sims across the household will be able to pick their infants up, walk around with them, sit down with them, hand them over to other sims – you get the idea. In addition to this, the babies themselves will also have a new lease of life, with new infant-centric interactions and animations.

These include things like burping, crawling up and down steps, and toppling over quite a lot. There will also be the all too real and, no I am not emotionally scarred you are, moments where a teething infant will bite another sim's finger. I can still see the mark…

Meanwhile, when it comes to customisation for your infant sims, there will be a myriad of new options to be found in the Create A Sim menu. This update will have cosmetics such as hats, shoes, glasses, birthmarks and more specifically for infants. All in all, it looks pretty great!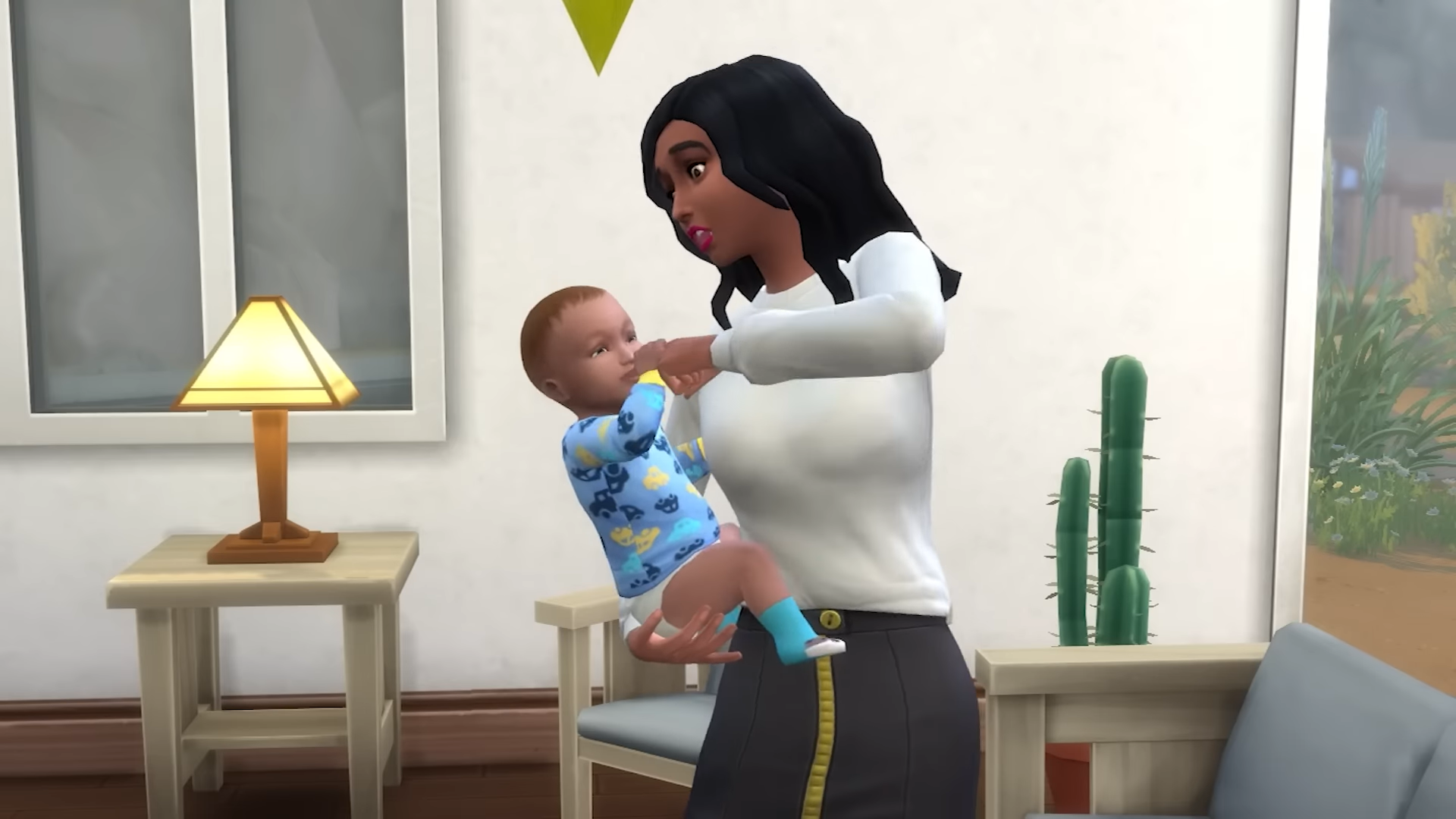 In addition to news on its upcoming update, The Sims 4 also released a free update for the base game yesterday.

Along with some general bug fixes, this update also introduced new cosmetics including top surgery scars, hearing aids, glucose monitors, binders and shapewear. Needless to say, these new additions have been met with waves of praise from The Sims 4 community.

On hearing the news about binders, one player replied "my nonbinary heart is happy."

"TOP SURGERY SCARS AND BINDERS?! That's so cool," another added. "So happy more representation is being added to the game."
I FINALLY GET TO SEE MYSELF IN GAME 🥹

— miles 🛵🌈 13 (@soupcore) January 31, 2023

To see this content please enable targeting cookies.



My goodness, there was a lot of The Sims news yesterday!

Along with all of the above, we also got a small update on Project Rene during the recent Behind the Sims presentation.

Right now a "small part" of the "next generation" Sims experience is being play-tested. Currently, that "small part" is focused on "apartment customisation" for the upcoming release (which is still "years out", according to game director Grant Rodiek).

Meanwhile, whenever it does release, Project Rene will be able to be played both solo or with friends in multiplayer.

"This is a big deal," Rodiek said, "We know that our players want to have that intimate personal experience where they're exploring stories and ideas in single player. But, there are also really cool things you could do with others, where you could share and create with your friends."

Rodiek stressed that Project Rene is "not an MMO" with a "public shared space". Instead, players will be able to play "on [their] own terms" and invite others when it suits them.

"That's the structure that we're pursuing. We think that's really cool, and perfect for The Sims," Rodiek stated.

You can watch the full Behind the Sims presentation in the video above.